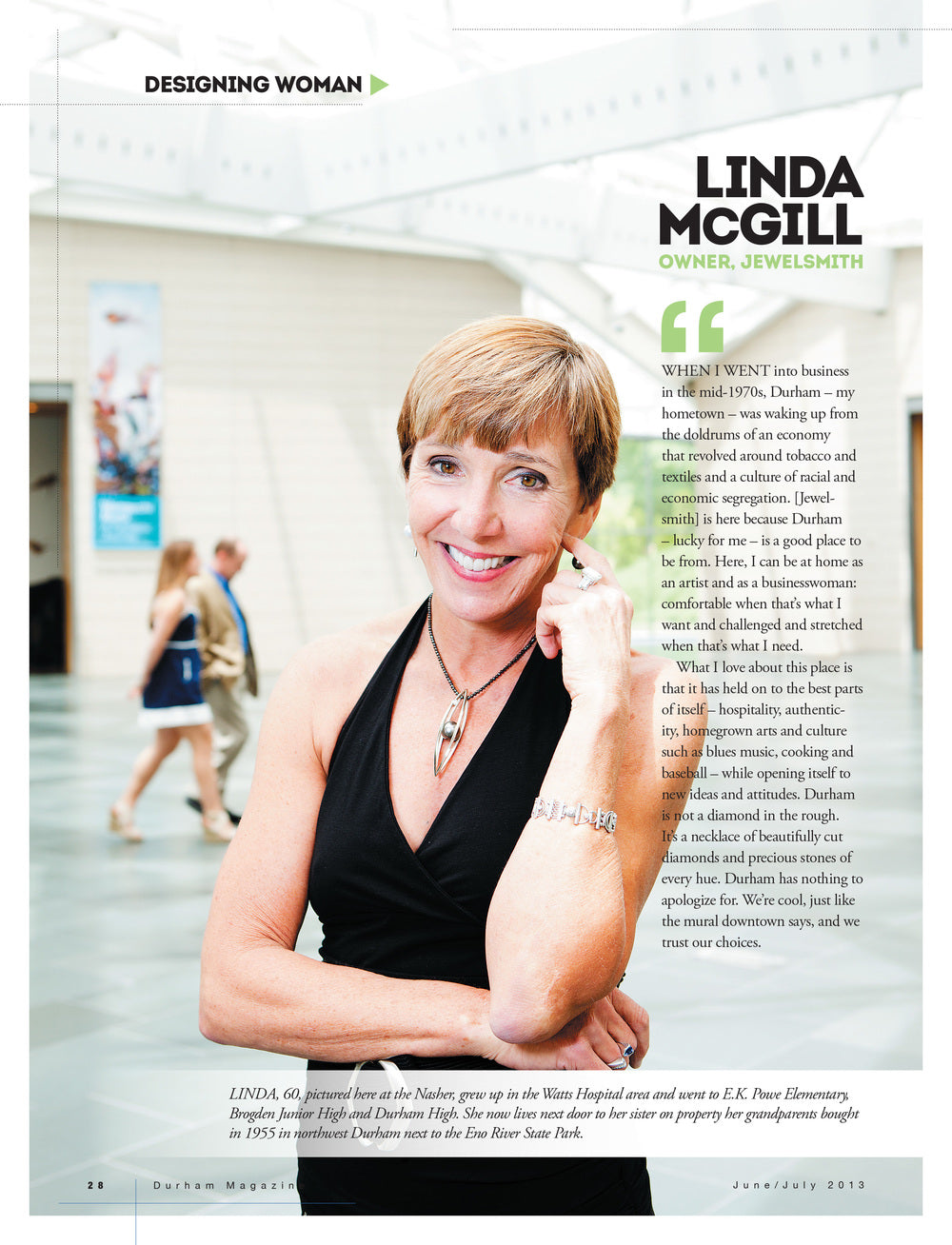 Our Origin
In 1976, armed with an art degree, a small amount of equipment and a passion for design, Linda McGill began her jewelry career in her hometown of Durham, NC.
Linda assembled a knowledgeable team of jewelry professionals who adhere to her core philosophy that ethics would always be their highest priority. She hired talented people and provided an atmosphere that allowed them to flourish and grow both as artists and as people.
Her team continues to work together with the common goal of exceeding client expectations with both the finished product and in creating a fun and unique shopping experience.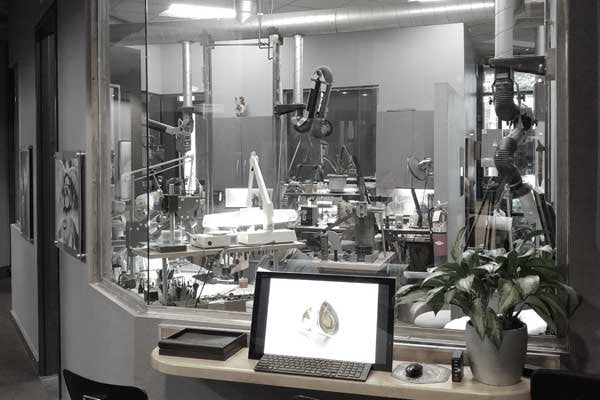 What We Do
Jewelsmith specializes in custom jewelry design, and makeovers - repurposing of jewelry.
The team of designers, goldsmiths, gemologists and administrative staff all work together to create each piece one at a time in the on-site workshop, visible from the showroom.
A wide selection of ready-to-wear jewelry, in all price ranges with styles from traditional to inventive is available.
Jewelry is handmade in-house with long-term durability in mind and is backed by a warranty. Those designs and much more are available both in the Erwin Square location and here at jewelsmith.com.
Designers are highly skilled in translating client's wishes into wearable heirlooms.
Careful attention to detail, backed by years of experience, goes into every jewelry repair.
Accurate and comprehensive appraisals, gem collection curation and client support are expertly carried out by the gemological team. The Jewelsmith Gem Lab has been accredited since 1996.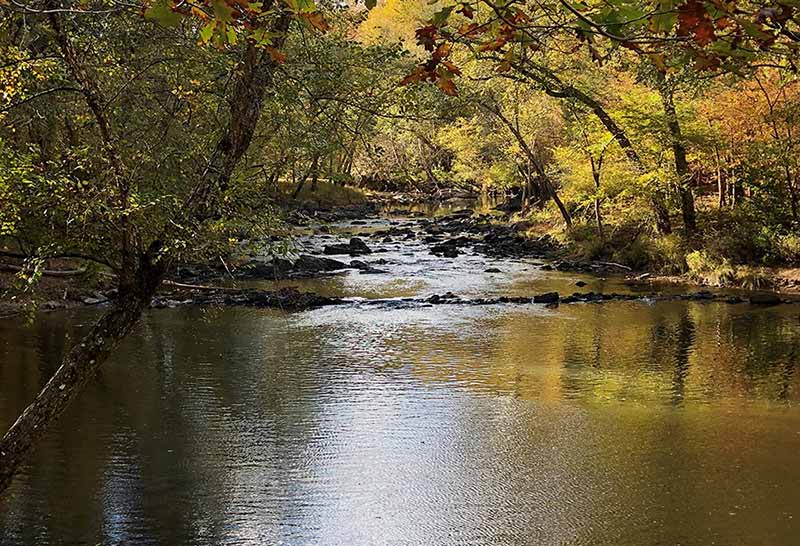 Social Responsibility
Linda instilled not only her innovative design approach in her team, but also her belief in the importance of supporting organizations that improve lives in the community. Jewelsmith and its staff are deeply involved both in the form of donations and as volunteers to many community building organizations.
In that spirit of community, Jewelsmith is also committed to implementing as many sustainable practices as possible. All precious metals are recycled. In the workshop metals are melted down and remade into wire, sheet, etc. What can't be reused directly is refined back into usable metals. When purchasing is necessary, Jewelsmith only buys from SCS Certified Responsible Sources which only sell recycled metals.
A wide array of sustainable and fairly traded gemstone options are offered, such as Montana sapphires, Canadian diamonds, lab created diamonds and more. The team often reuses client's gemstones in new custom designs, giving them new life and adding to the sentimental value of the finished jewelry.
Air and water filtration systems as well as intensive trash recycling efforts contribute to a cleaner environment. A partnership with One Tree Planted allows client purchases to help with reforestation.  Read more about sustainable practices.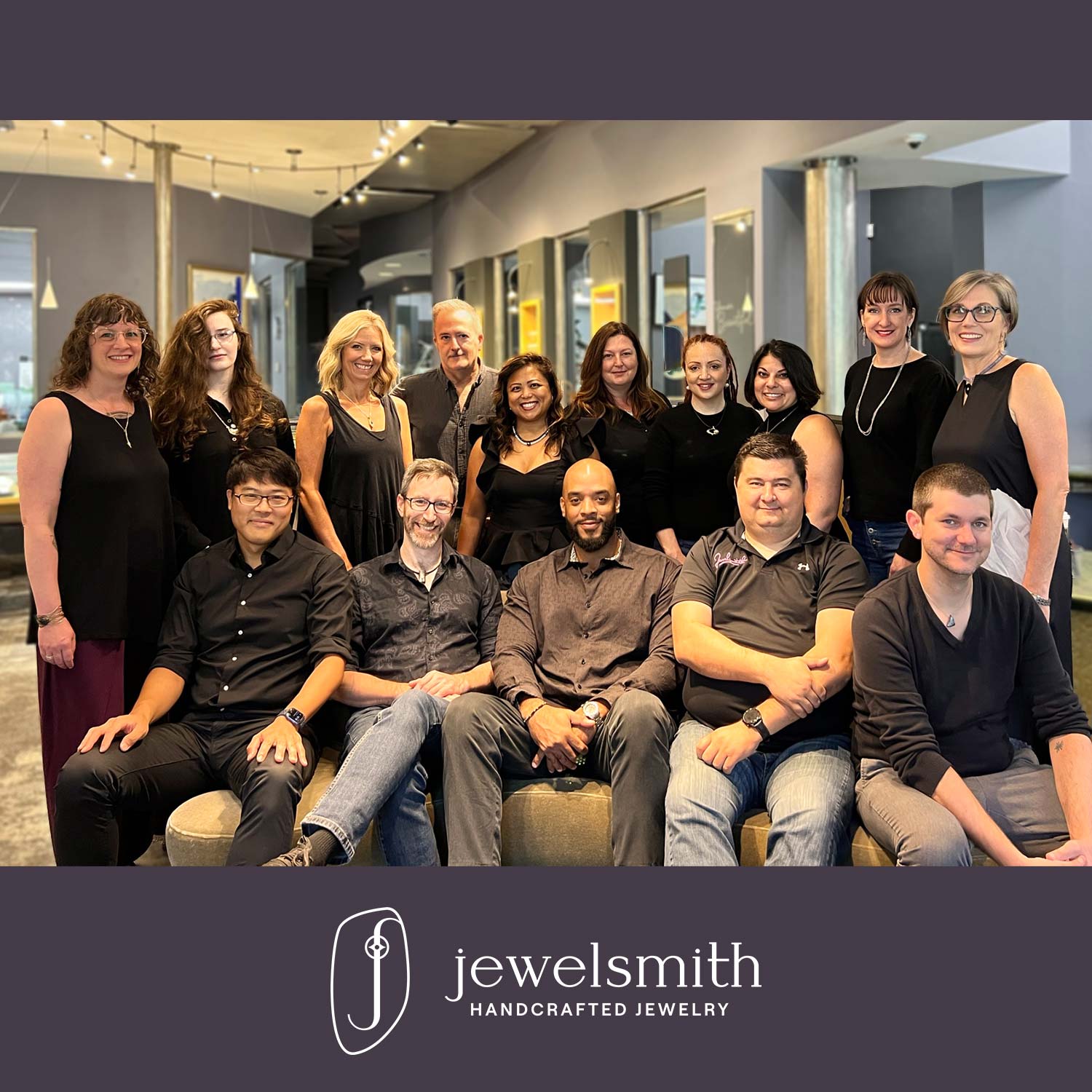 Going Forward
Linda's death in June of 2021 was a devastating blow to all who knew her. It was vital to her to take steps to ensure that the work family she created would continue to fulfill her vision.
She accomplished this by designating a small group of employees as shareholders of Jewelsmith. She hand-picked manager and president, Kristine Wylie, to lead the company. Kristine and her team are committed to honoring Linda's 45 year legacy of ethics, design, above and beyond customer service and giving back to the community.