How to use our
Interactive 3D Design Tool
Imagine personalized custom ring possibilities and see them in 3D
Look at all the different combinations of metals and gemstones that make handmade jewelry come to life!
Ready to design your own ring?
Tap the "Design Yours" link to explore our 3D designs and find the perfect piece!
Drop down to change the metal and gemstones colors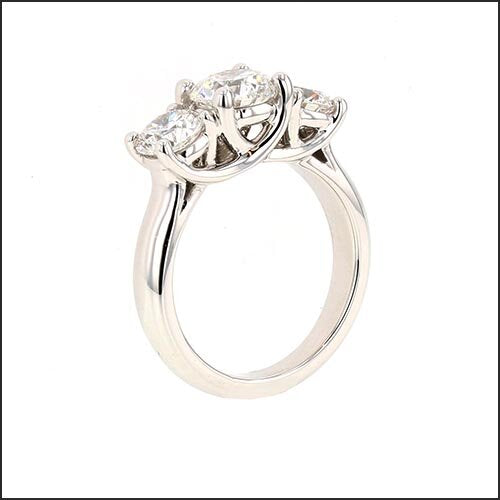 Three-Stone Trellis Ring
Our version of the classic three-stone trellis ring is the culmination of years of experience in how to build designs that are beautiful and stand the test of time. We have made this ring with many combinations of metals and gems. With this type of design, no two are ever alike. The height of the stones allows the gentle curve of the trellis to be seen, and a wedding band to gracefully rest alongside
Design Yours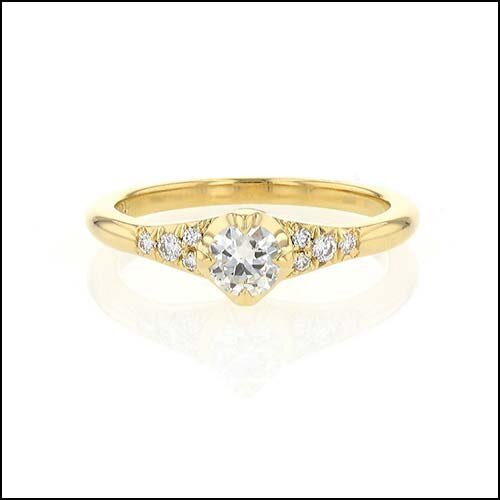 Ladyslipper Ring
Our version of the Ladyslipper ring looks delicate and dainty without being frail.
This engagement style is a perfect choice for round, oval and cushion shaped gemstones.
These rings sit low to the finger and are not meant to have a wedding band sit flush. "Embrace the gap!" is what we often say and pair it with a delicate diamond band. If you simply cannot stand the space between your engagement ring and your wedding band, a gentle curved band can be made to match
Design Yours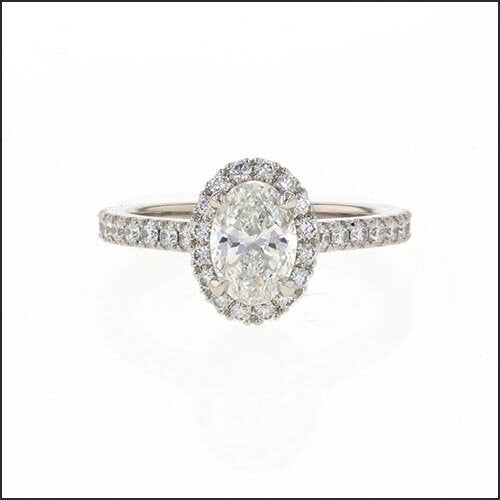 Halo Ring
The diamond halo engagement ring has been on our most popular custom engagement ring request list for quite some time. A shimmer of diamonds surrounds the center stone to enhance its size and frame the shape beautifully.
This delicate design is best for those who are willing to remove it for their more adventurous activities. (No rock climbing or weight training allowed while wearing this ring, please.)
Design Yours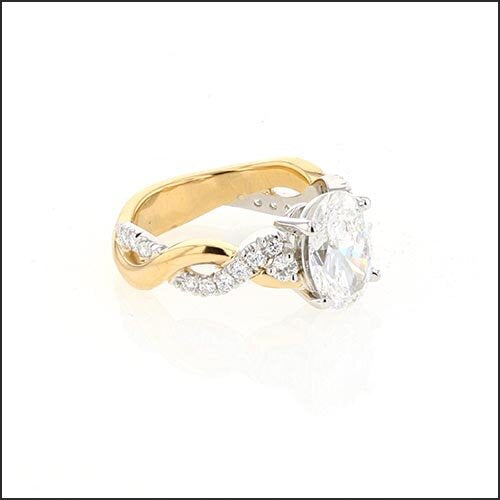 Infinity Ring
Symbols of love personal to the wearer are often incorporated into our designs. Here, the infinity sign has been woven into the engagement ring. Find the perfect combination for your personalized custom design. This symbol is spectacular when created from our ideal cut melee, and makes a timeless statement of eternal love
Design Yours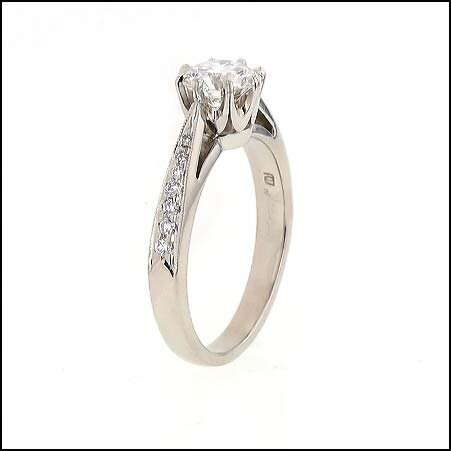 Crown Ring
These regal designs feature a crown style head securing the diamond. With delicately milgrained bead set diamonds down each side of the shank, this design harkens back to another era. Reminiscent of rings worn during the Edwardian period, this style works with a variety of center shapes. For a truly period-accurate look, choose a cushion cut, old mine cut or European cut diamond
Design Yours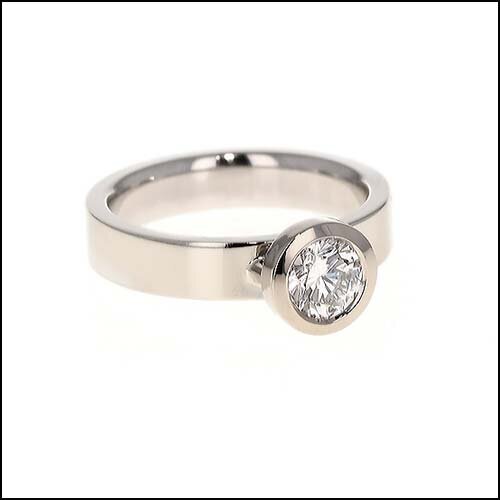 Post and Pillars Ring
Sleek. Precise. Minimal.
There is nowhere to hide with this design. It is all about the stone. The surrounding metal showcases the shape of your stone and the width of the shank feels luxurious. There is still room for any accompanying bands to sit flush on either side.
(We recommend one on each side. Oh yes, definitely.)
Design Yours
Stacking Cone Bezel Ring
Our stacking cone bezels can be customized with a variety of gems and metals, giving you endless possibilities for unique and beautiful jewelry designs.
Just click the button and you'll be able to view some of the many combinations available in 3D.
From classic gold and diamond combinations to bold and colorful looks, you're sure to find something that speaks to your style.
So, which is your favorite?
Design Yours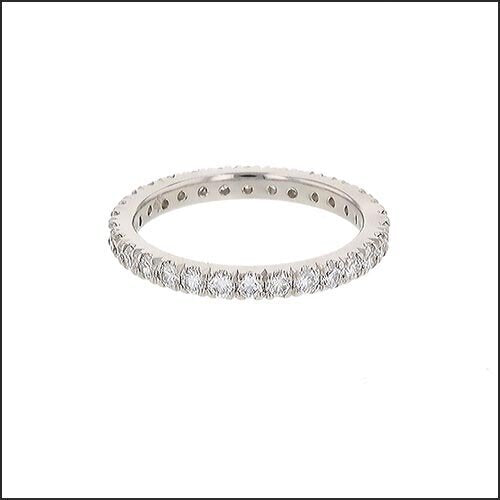 French Cut Eternity Bands
This stunning diamond band stands out from the rest due to its masterfully-crafted cutwork setting.
The metal of the band is carefully carved by hand into a delicate crisscross pattern. This hand engraved pattern is designed to enhance the sparkle of each diamond. The intricate pattern created in the metal adds a unique elegance to the piece, making it truly special.
Design Yours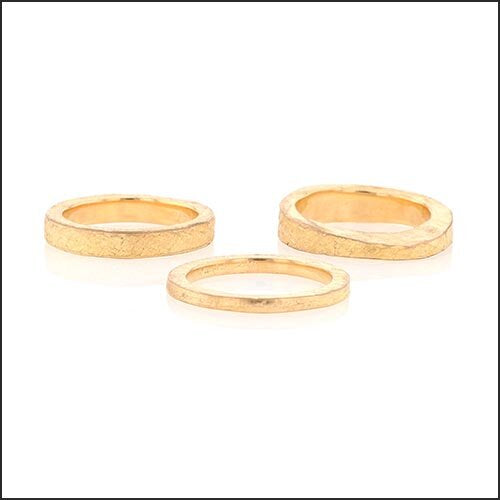 Hammer Finished Bands
These handcrafted hammer-finished bands are truly one-of-a-kind works of art.
The artist uses a vintage hammer to strike the metal, creating a unique texture and pattern with each blow. The metal is shaped and molded, giving the bands a unique and beautiful appearance that is both visually appealing and incredibly durable. Every band is completely unique, as the metal yields to the hammer differently with each strike, creating a truly unique piece of art.
Design Yours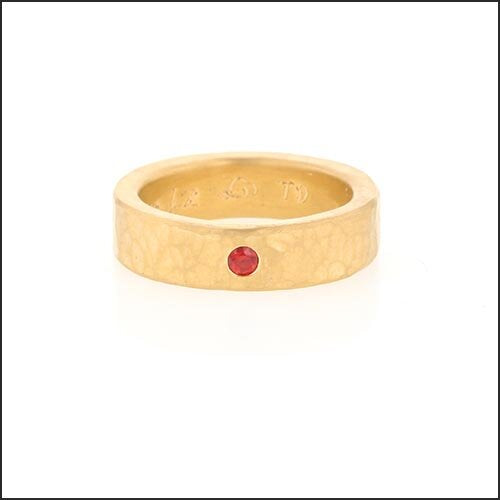 Hammer Finished Band with Flush Set Gem
Textured with the vintage hammer like the previous examples, this band adds a touch of sparkle and possibly color to the design. What's your favorite combination?
Design Yours
Contact Us
Do you have any questions?