Jewelry Design and Creation
What to expect on your customized jewelry journey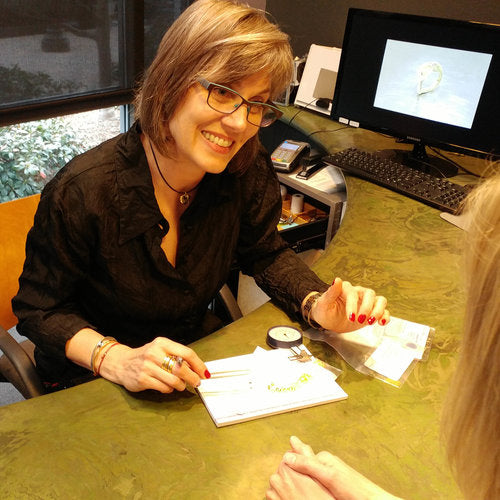 Step 1
Talk to a designer
The first step in your new creation is to have a conversation with one of our talented designers who know how to listen and figure out exactly what you want, even if you're not sure!
New gemstones: we have a large selection in stock, plus we can contact our trusted sources to send us several for you to choose from with no obligation.
Sentimental jewelry: if you'd like to include in your project or jewelry that you just don't wear anymore, let us know and we can either use it or give you a recycling credit toward your project.
Reset your own diamonds or gemstones: we love the extra meaning that repurposing family gems can bring
Contact a designer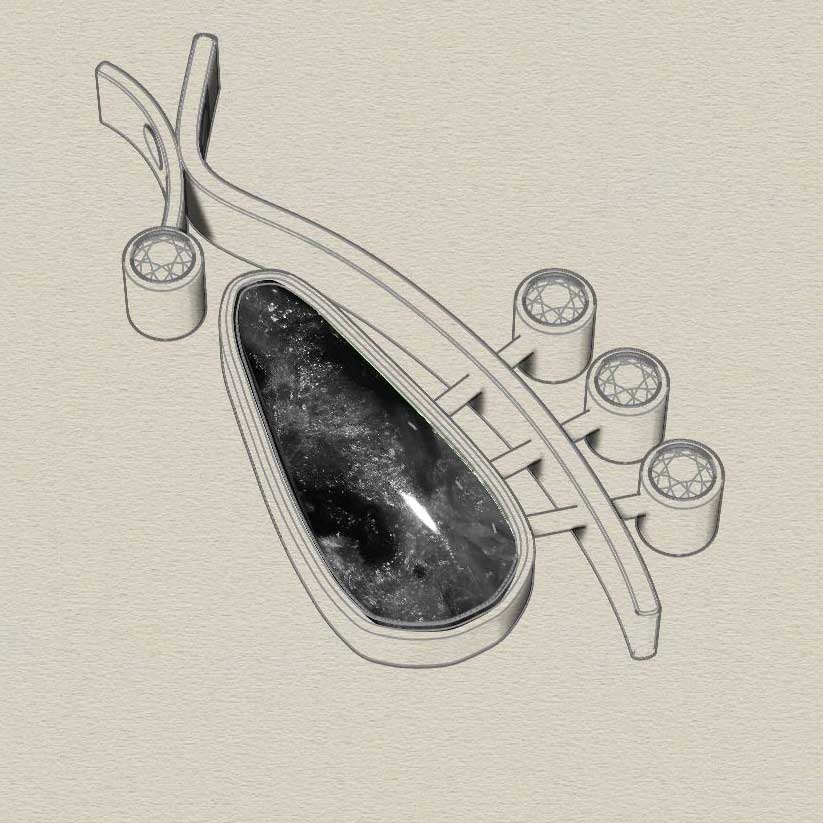 Step 2
The Custom Design
Either a hand-drawn sketch or a CAD (Computer Aided Design) rendering is created so that you can see the vision start to come to life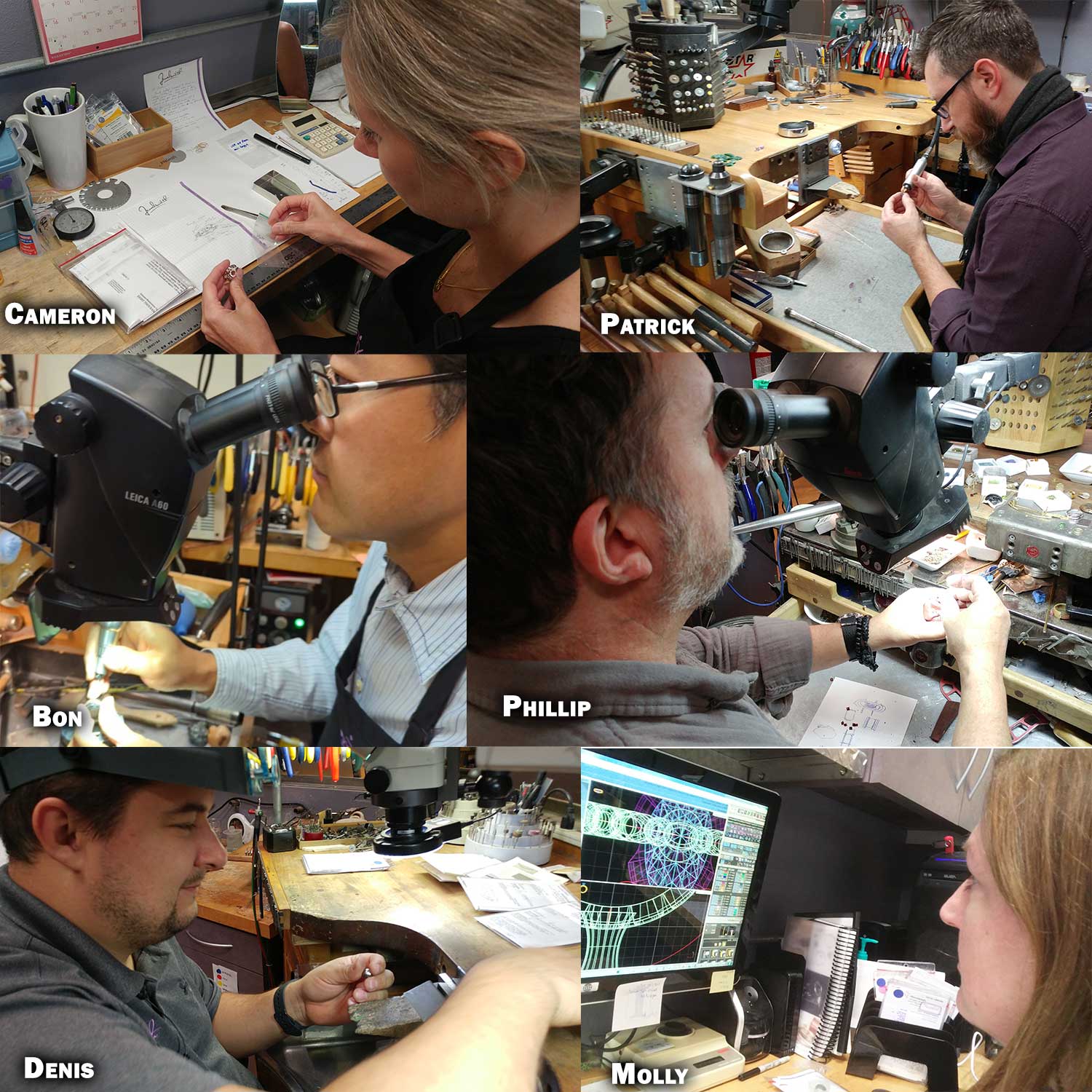 Step 3
Creating Your Jewelry
Once the ideas are all sketched out and you love what you see, one of our expert goldsmiths will get started on building your new piece! 
You can see the goldsmiths working from our showroom and you can even get a tour and see the our cool tools and meet the team!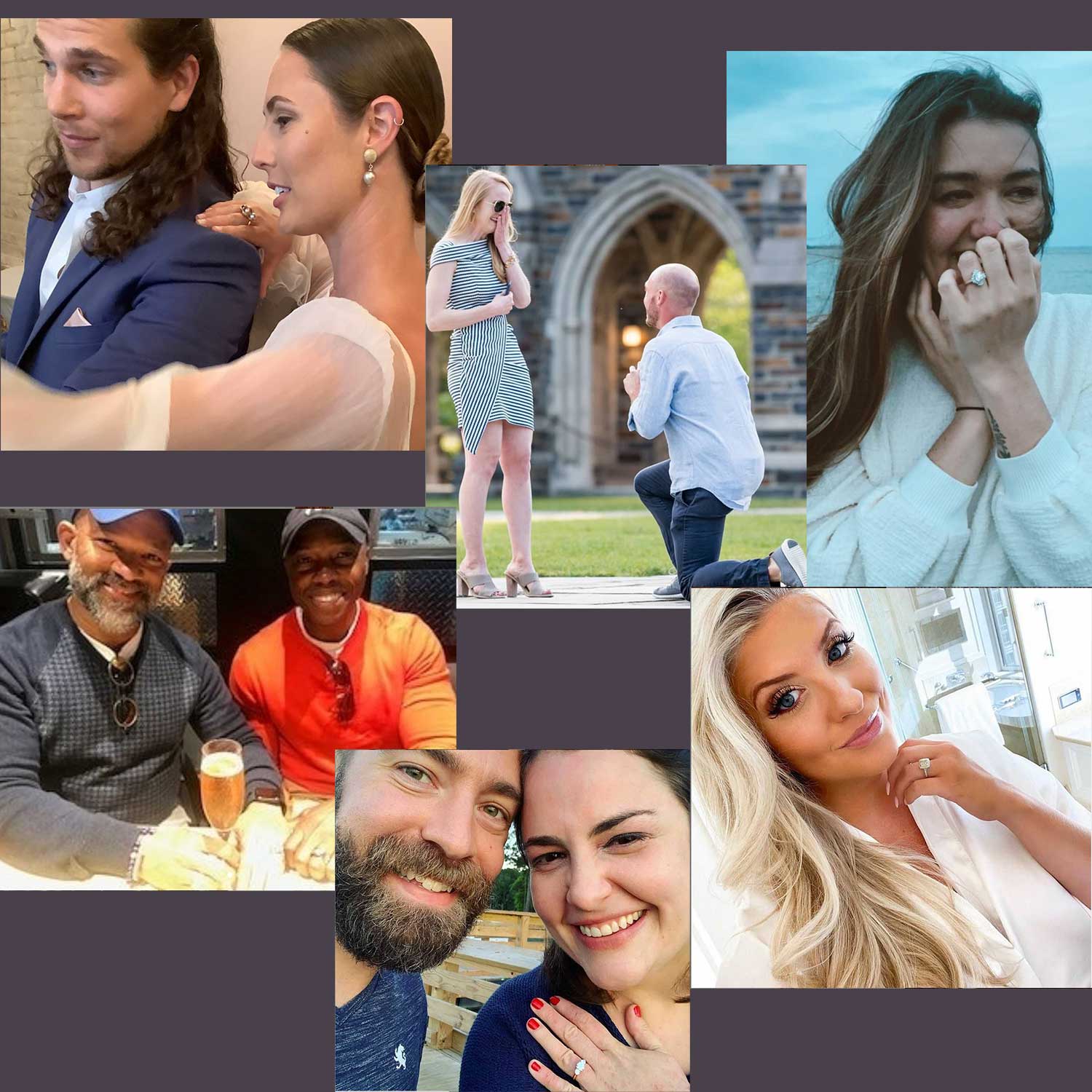 Step 4
Enjoy your new jewelry
There's nothing quite like jewelry that's personalized just for you
Contact Us
We'd love to hear from you!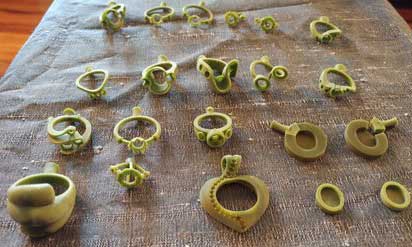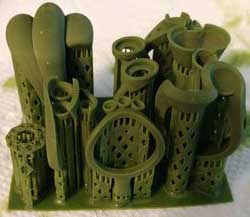 model created in CAD
Creating Wax Models
Our CAD designers have also worked as bench jewelers and truly understand how jewelry needs to be virtually created in order to work in the real world
3D printed wax models
Wax Models
If the item will be cast, a wax model will be created either by hand carving or more often by CAD and 3D printing
supports removed and ready to try on
Wax Models
Once your wax model is finished, you can view it, by coming by the shop, we can send pictures of it to you or if you live out of town we can even mail it to you.
You can try it on and make sure that you love the width, height etc before we move on to the next step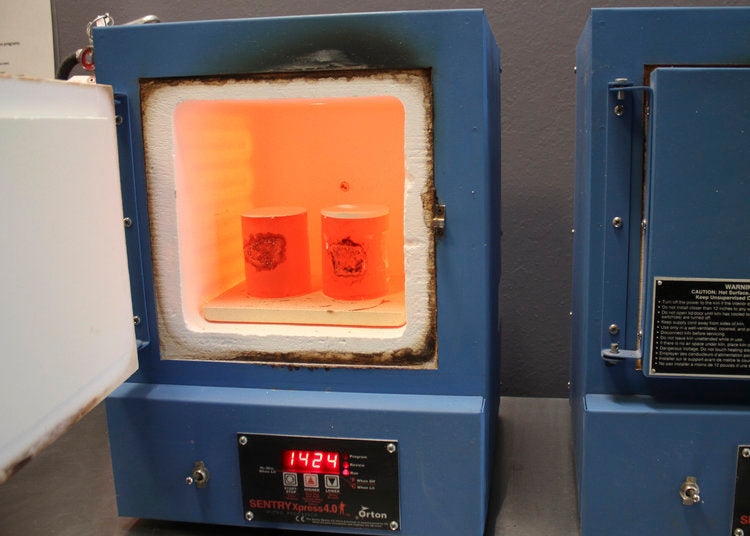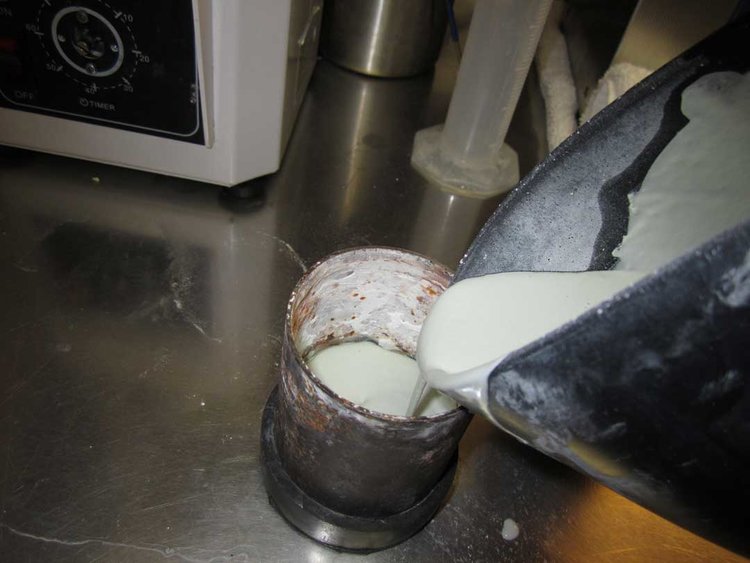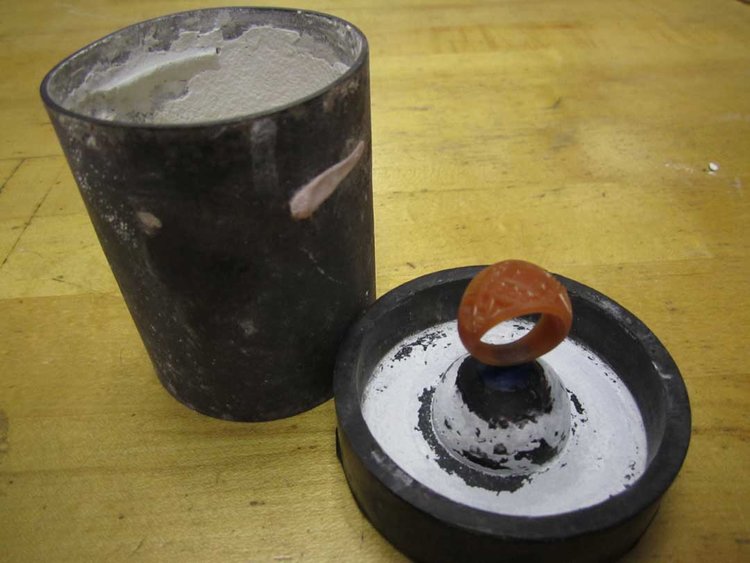 spruing
Prepping for Casting
The model is attached with wax to a base and prepared for making the mold
pouring special plaster to create the mold
Prepping for Casting
The mold is created around the wax model by pouring plaster around it
wax burnout in kiln
Prepping For Casting
The wax is melted out of the mold and a cavity is left. It's this cavity that the molten precious metal will be poured into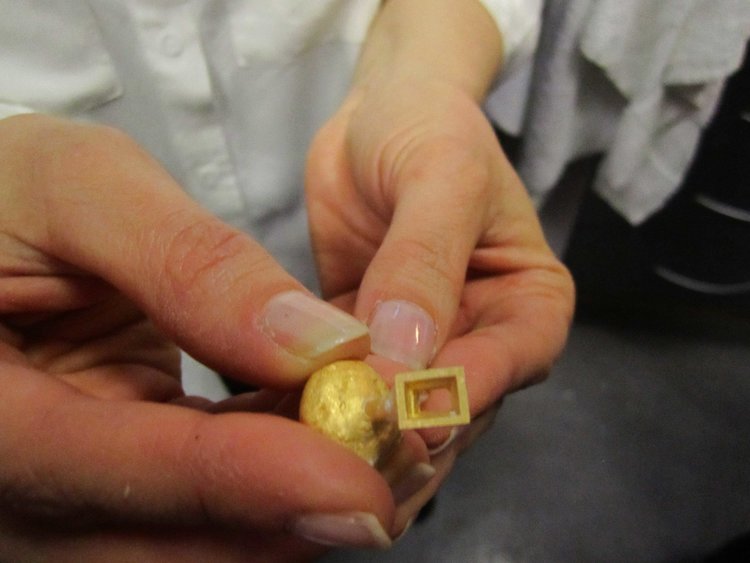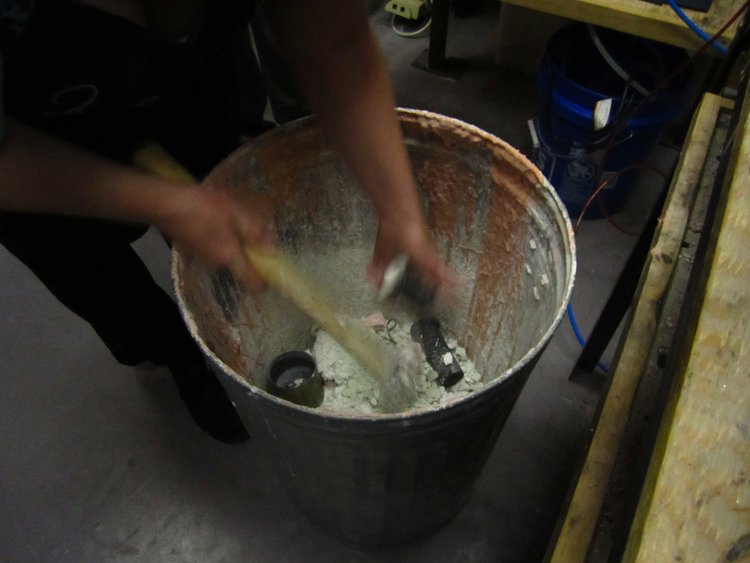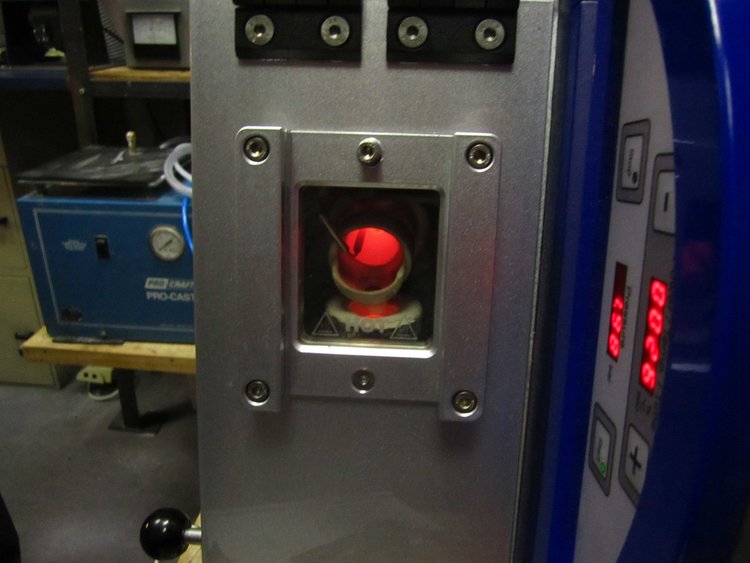 metal just poured into mold
Casting
Our casting machine helps us control the variables that ensure the highest quality castings
breaking the mold
Casting
The mold is broken to reveal the metal casting inside
a fresh casting
Casting
A casting just removed from its mold and still attached to the extra metal or button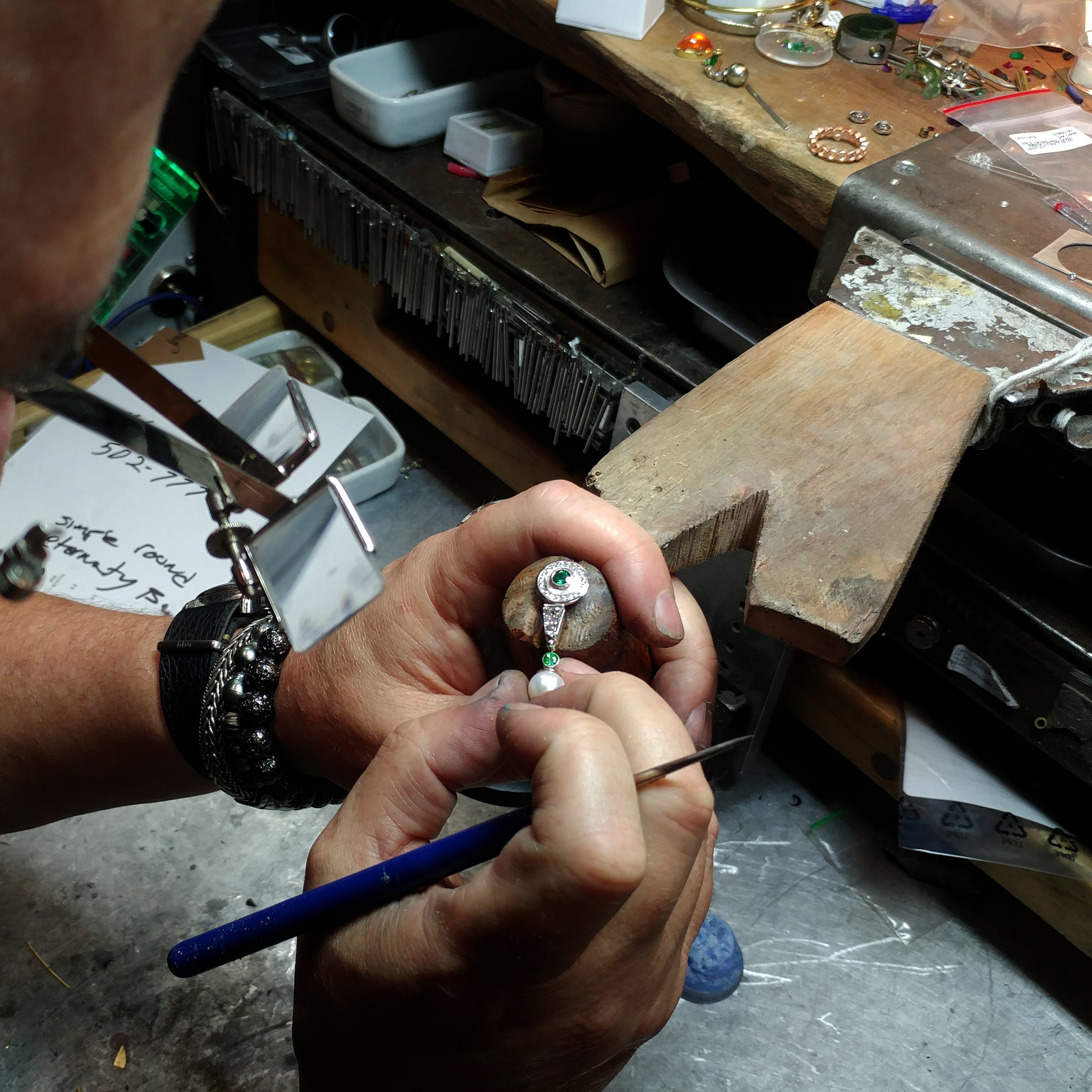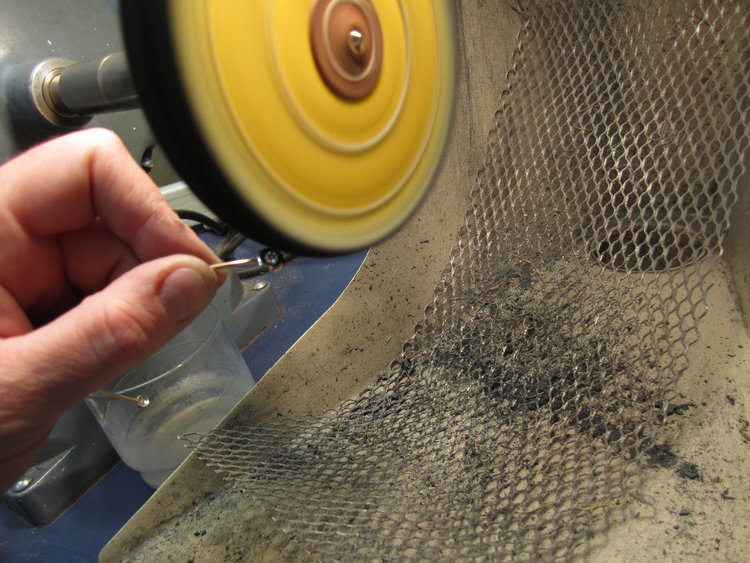 setting a diamond
Setting & Finishing
Each diamond and gemstone are expertly set
polishing
Setting & Finishing
Each piece of jewelry is carefully finished one at a time
Final inspection
Setting & Finishing
Our jewelry undergoes several levels of quality control to ensure that everything is just right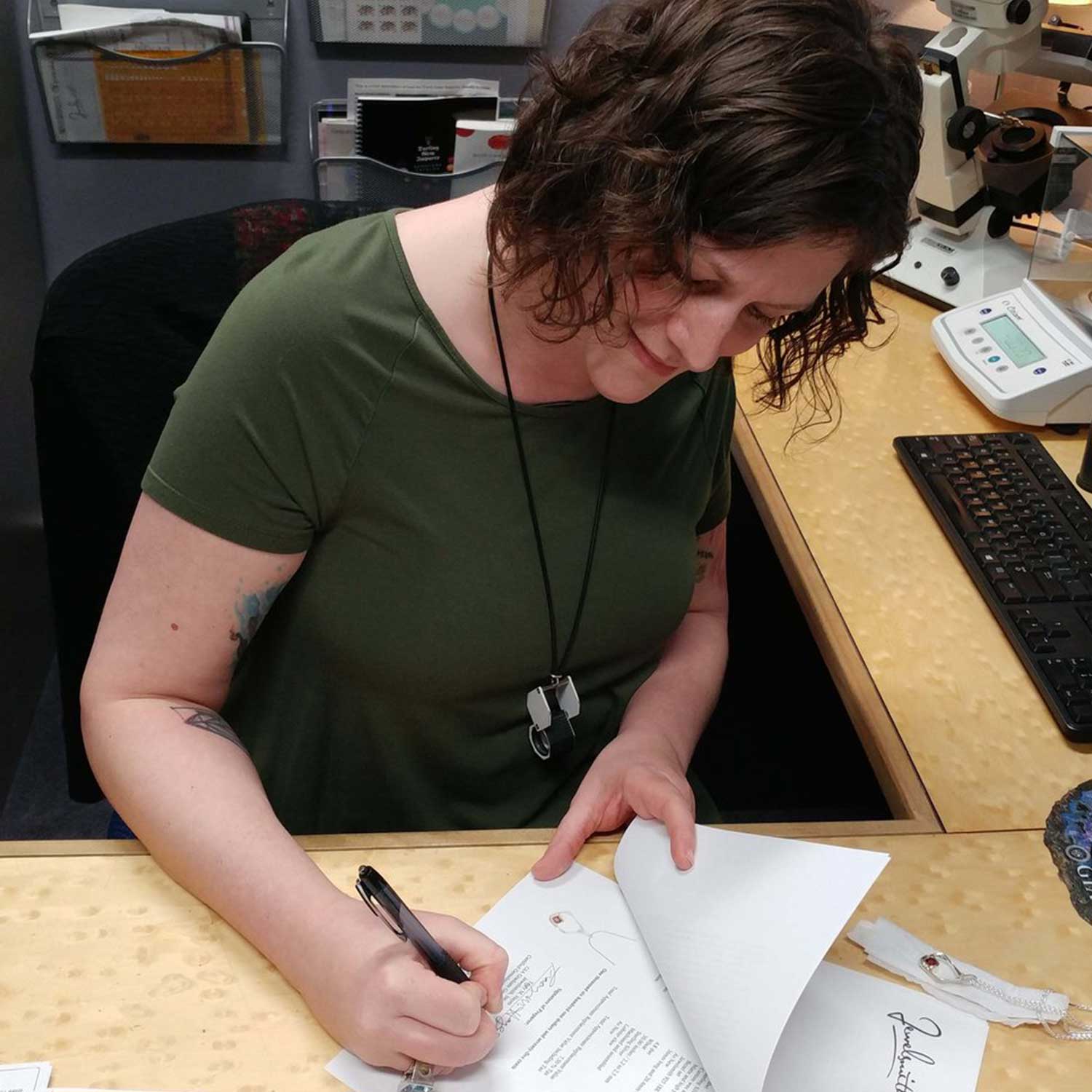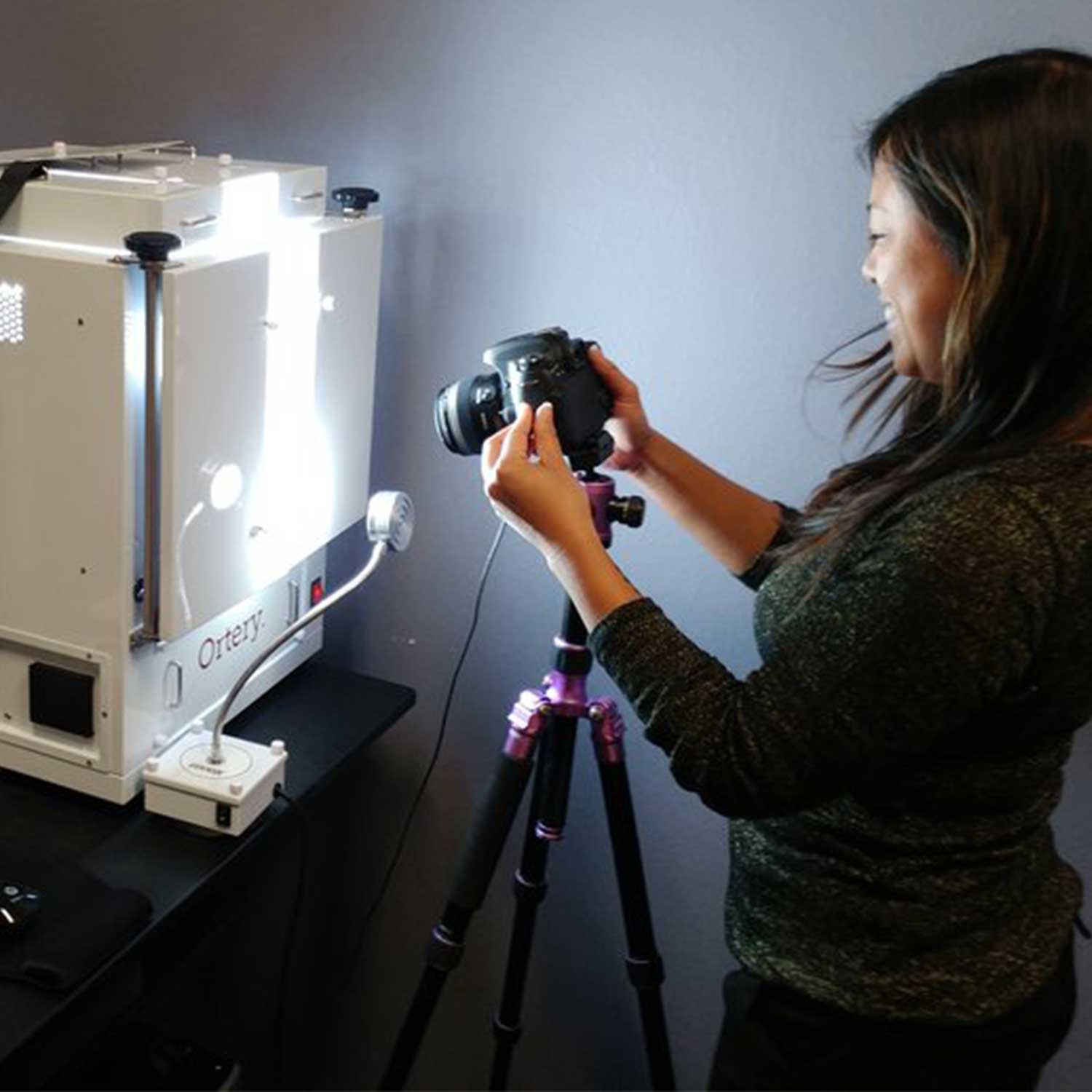 Kristine taking photos of custom jewelry
Records & Appraisals
Our administrative team takes all the information about the metal/labor/gems etc, inputs them into the computer and takes an amazing photograph of your new piece of jewelry so that we will always have a record of everything that went into it!
Certified Gemologist Appraiser, Tracy writing an appraisal
Records & Appraisals
The gemologists write up a detailed appraisal complete with a photo at no charge (for every item over $1000)
What our clients are saying
Review
Excellent staff. My partner and I could not be more thrilled about our custom made engagement rings. Mary at Jewelsmith has been with us every step of the way and helped us design rings that reflect our aesthetics, values, and budget. I recommend this "gem" of a local business to everyone.
Review
The customer service, attention to detail, fine craftsmanship, and creativity at Jewelsmith make it a unique gem of Durham!
I had my engagement ring designed here (gorgeous!), a custom band made, and have had jewelry appraised here a number of times. In all encounters, the staff was outstanding- always going the extra mile. I wouldn't go anywhere else, they are amazing.
Review
The whole team and experience is top notch! Highly recommend them. Mary helped my fiancé and I create a beautiful engagement ring with family diamonds. We will be returning to purchase a wedding ring I'm sure our children will fight over. Our entire family loves them immensely.
Review
On a whim, I asked Jewelsmith to create new pieces from family rings that did not match my taste. Working with their team each step of the way, the finished jewelry literally took my breath away. I could not believe that they were the same stones. My vintage jewelry is now being enjoyed instead of sitting in the safety deposit box. THANK YOU to everyone at Jewelsmith for your craftsmanship.
Review
I was originally hesitant to make such an important purchase remotely but the virtual presses was easy and Katherine was so knowledgeable and helpful that it felt as if we were.there in person. The team worked hard to custom create my vision while staying within my budget. Thank you Jewelsmith!..I love my wedding ring. It is everything I imaged.
Review
A fabulous experience from start to finish. I brought my grandmother's stick pin in, along with many other pieces no longer worn and living in the back of the drawer and had them taken apart and used the jewels to make two beautiful pairs of earrings for my daughter. Both pieces were designed in-house and look gorgeous. The 'jewelry designers and makers' are professional, talented, and will work with you to make what you want. Many thanks to Patrick for the time and talent. Everyone in the store made my multiple visits special. I am so happy that these family pieces will now be passed down and enjoyed and worn in their new, lovely iteration.